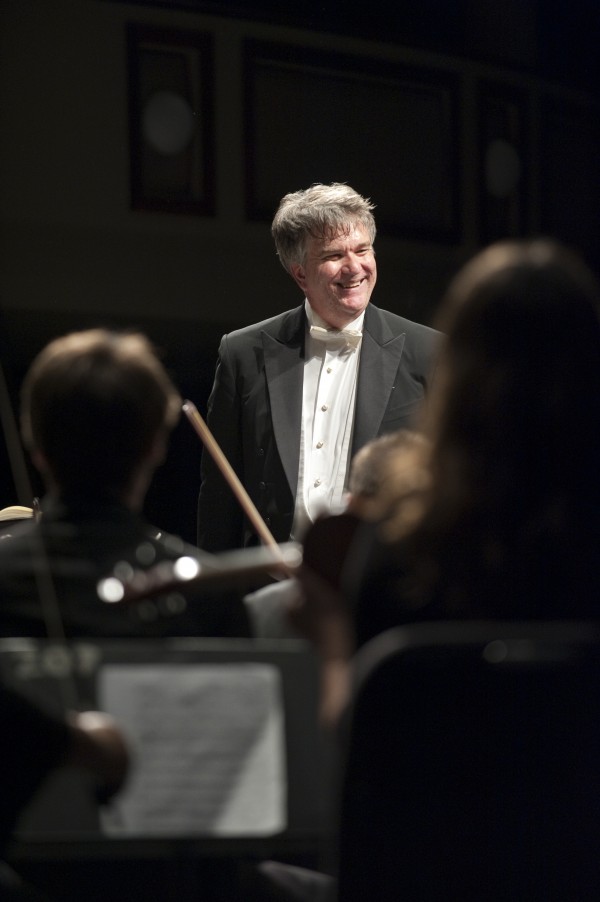 Prize-winning conductor and award-winning teacher Brian Stone has worked both in the opera pit and on the concert stage with professional orchestras in California, Missouri, Indiana, Utah, Maryland, Florida, Alaska, Washington, Connecticut, Romania, Germany, Hungary and Bulgaria, and students at The University of Maryland, The Johns Hopkins University, Ohio University, Boston Conservatory, University of Mobile, San Diego State University, Stanford University, the National Conservatory of Colombia, The Claremont Colleges, The Catholic University of America, and the All-State Honor Orchestras of Delaware, New Jersey, Pennsylvania, and Southern California, to both public and institutional acclaim. He has collaborated with such artists as Marvin Hamlisch, Bethany Beardlsee, Gilbert Kalish, Jonathan Carney, Eddie Daniels and Gary Burton, Eric Owens, Guy Braunstein, William Kraft and Leon Fleisher.
In the past, Brian was one of the conductors chosen to participate in the National Conductor Preview with the Utah Symphony. In 2008 he received the prestigious Jessie B. DuPont Award in Music Education in recognition of his work and in 2009 he was awarded the "First Honours Diploma" in the 29th MasterPlayers Music Competition. Last year, he won the "Special Prize" at the Second Black Sea Conducting Competition in Romania.
In a decade as director of the University of Delaware Orchestras, Stone developed a three-ensemble area of orchestral activities that doubled the enrollment, tripled the number of performances, and quadrupled the audience attendance. His sophisticated programs, ranging from Baroque to Contemporary, and the Classics to Jazz, Rock, Folk, Broadway and Hollywood received national recognition. In 2009 the UD Symphony was invited for the first time in their history to perform at the Music Educator's National Conference convention.
Brian began his musical career playing the saxophone in the public schools of Santa Monica, California. Already an exceptional player as a youth, he went on to win several competitions. Later, he took up viola and piano, and started composing as well. Stone is a graduate of Bennington College in Vermont, where he studied composition, viola and literature. Dr. Stone received a Master of Music degree and a Doctorate in conducting from the Peabody Conservatory where he studied with Frederik Prausnitz and Gustav Meier. Additional studies in conducting took place at Le Domaine Forget in Canada with Otto-Werner Mueller and two summers at the Festival at Sandpoint with Gunther Schuller. His other teachers were Harvey Pittel on saxophone, Jacob Glick on viola, Bill Dixon in improvisation, and Allen Shawn and Henry Brant in composition.
Brian has some deep roots in the North State area: his maternal grandfather's family settled in Colusa County after the civil war, and his mother went to high school in Colusa and was "Miss Colusa County" to the 1957 Miss California Pageant. Brian's father and his family emigrated from Vienna in 1940 and settled in Stockton.