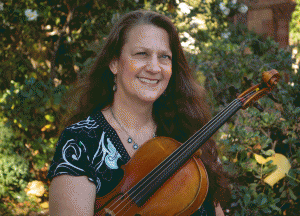 Cathleen Davis-Storm, Viola
chair sponsored by Morris and Jessie Davis

Redding, CA
playing with NSS since 2007
What made you want to be a musician?
I am the youngest in seven and there was always music in our home, my older neighbor friend was learning to play viola and I watched. I guess it was a part of me from the beginning.
Favorite genre of music?
I can't decide, I love everything from composers like Prokofiev, to artists like Mumford & Son's.
What do you enjoy doing when you're not rehearsing or performing?
I love to camp with my family. In the mornings I listen to music like Appalachian Spring or Pines of Rome on headphones, it fits the surroundings.
What's it like to perform onstage with an orchestra?
It's a visceral experience, the sound is all around you, I can feel my instrument vibrating when I am not playing, and the Timpani in my stomach. I become the music.
Best advice you've ever received?
Listen to a recording of the piece you are preparing to play, while following along in your part. It helps you understand the music, if you have never played it before.