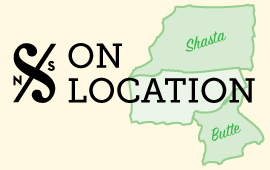 As schools closed in March of 2020 due to Covid-19, our intrepid musicians and conductor were not deterred!  On April 27th, Scott Seaton, NSS Music Director, visits with Lou Polcari, Shasta High School (SHS) Band Director, and his music students in a far-ranging interview recorded for Mr. Polcari's Podcast "P-Squared". Click the slider below to listen to commentary and music!
(To hear the whole podcast interview which includes an interview with SHS Orchestra Concertmaster Kiara Schutte, visit the Podbean website by clicking here).
---
NSS musicians virtually visit Chrysalis Charter School
Thanks to Irene Salter, Administrator of Chrysalis Charter School in Redding, for hosting the first-ever NSS "virtual school assembly" on May 7th! NSS Conductor Scott Seaton, principal harpist Candace LiVolsi, and percussionist Eric Whitmer share their stories and their music.  Here's the video recording of that virtual visit.
ON LOCATION
Thanks to Irene Salter for hosting the first-ever NSS "Virtual On Location" assembly for Chrysalist Charter School in Redding on May 7th. Here's a video that was recorded during that session.