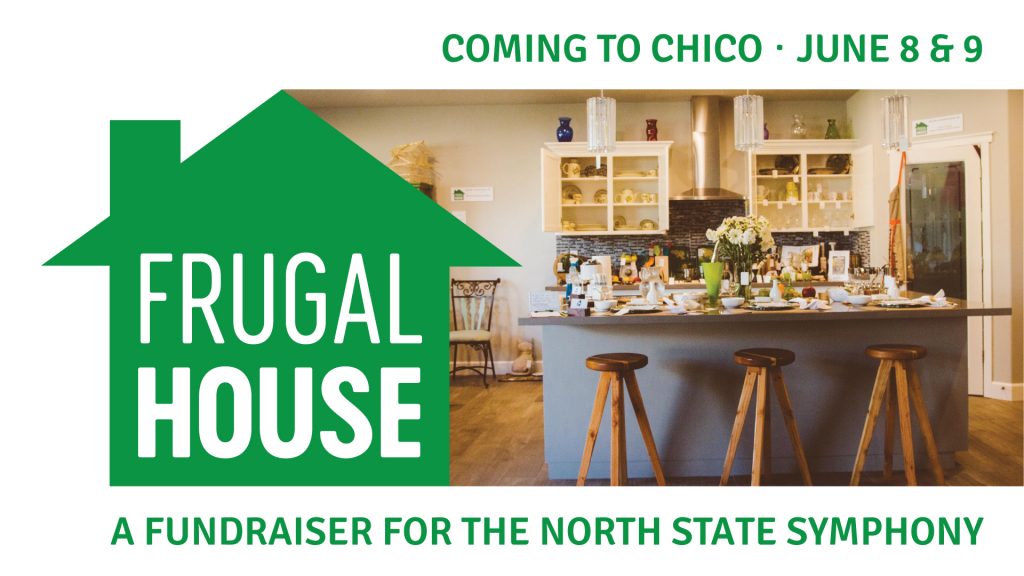 Frugal House
Creative local decorators and designers stage Frugal House as a fundraising event for the North State Symphony, utilizing gently-used furniture and decor to showcase interior design possibilities on a tight budget. All items in the house are available for sale at frugal prices!
All proceeds support the North State Symphony and help ensure that high-quality music is part of Chico's landscape for many years to come.
---
Opening Night Street Party
The Friday, June 8 kickoff party, from 6 to 9 pm, will include live music, delicious hors d'oeuvres, a no-host bar, and the first opportunity to shop in the Frugal House. Tickets are $40.
Entertainment by: Rigmarole
Food by: Roots Catering, La Flor de Michoacan, Inday's Filipino Food, Truck-A-Roni
---
Open House
Frugal House will be open for touring, shopping, and frugal decorating inspiration from 10 am to 6 pm on Saturday, June 9. Tickets are $15.
---
Get Tickets
Purchase tickets online here! Opening Night tickets are $40. Open House tickets are $15.
Tickets are also available at Zucchini and Vine and The Music Connection in Chico!
---
The House!
Frugal House will be located at 2855 Silkwood Way, in Sycamore Creek Estates - an Epick Homes development in North Chico.
---
Sponsor and Support
We're looking for sponsors of the 2018 Frugal House! You or your business can sponsor a room of your choice in the Frugal House, or become a "Frugal Friend" for just $99! All sponsors and supporters receive free tickets, program recognition, and more! Contact Daria Booth for details: dbooth3@csuchico.edu or 530-898-4054
---
Donations
Donations of household items can be left at Sorenson's Moving and Storage on 600 Orange Street in Chico. For large donations, call 898-6692 to arrange for a pickup. All donations are eligible for a gift in kind receipt from CSU, Chico.
SaveSave
SaveSave
SaveSave
SaveSave
SaveSave
SaveSave