Masterworks 1: Reflections

Scott Seaton | Conductor

Saturday, September 23, 2017 @ 7:30PM Cascade Theatre, Redding, CA
 Get Tickets!
Sunday, September 24,2017 @ 2PM Laxson Auditorium, Chico, CA
 Get Tickets!

Guest Artists:
Sara Davis Buechner, Piano

Opening night will thrill you with the sounds of the Second Symphony of Sibelius—a symphonic masterwork of bracing sweep credited with launching the composer's international career. Pianist Sara Davis Buechner will give us a tour of Rachmaninoff's Rhapsody on a Theme of Paganini that "…Rachmaninoff himself would have relished..." (Milwaukee Journal)

Barber: School for Scandal Overture
Rachmaninoff: Rhapsody on a Theme of Paganini
Sibelius: Symphony No. 2

Free pre-concert talk one hour before each performance.

Single Tickets range from $18 to $55 with discounts available for students and seniors.

For a limited time, subscribe to all four of our Masterworks concerts and save! Details here.

More Masterworks Concerts!


Infectious Rhythms, Nov 11 & 12
Stravinsky, Ravel, Pinkston, and more!


Almost Vienna, Feb 24 & 25
Mozart, Beethoven, Bolcom, and more!


As Fate Would Have It, May 12 & 13
Tchaikovsky, Elgar, and Glinka!
---
Guest Soloist: Sara Davis Buechner
Noted for her musical command, cosmopolitan artistry, and visionary independence, Sara Davis Buechner is one of the most original concert pianists of our time. Lauded for her "intelligence, integrity and all-encompassing technical prowess" (New York Times), "thoughtful artistry in the full service of music" (Washington Post), and "astounding virtuosity" (Philippine Star), Japan's InTune magazine sums up: "Buechner has no superior."
In her twenties Ms. Buechner earned a bouquet of top prizes at the world's premiere international piano competitions. She was a Bronze Medalist of the 1986 Tschaikowsky Competition in Moscow and the Gold Medalist of the 1984 Gina Bachauer International Piano Competition.
Ms. Buechner has performed in every state and province of North America — as recitalist, chamber musician and soloist with top orchestras like the New York Philharmonic, San Francisco Symphony and Philadelphia Orchestra; and in venues such as Carnegie Hall, the Kennedy Center and the Hollywood Bowl. She has toured throughout Latin and South America and Europe; and she enjoys a special following in Asia, where she has been a featured soloist with the Sydney Symphony, New Zealand Philharmonic, New Japan Philharmonic and Shanghai Philharmonic, among many others.
She has commissioned and premiered important contemporary scores by composers such as Michael Brown, John Corigliano, and Yukiko Nishimura. Ms. Buechner's performance versatility extends to unique collaborations with film and dance (including tours with the Mark Morris Dance Group, and Japanese kabuki-mime-mask dancer Yayoi Hirano).
Ms. Buechner has released numerous acclaimed recordings of rare piano music by composers such as Rudolf Friml ("a revelation" — The New York Times), Dana Suesse, Joseph Lamb, Joaquín Turina, Miklós Rózsa, and Ferruccio Busoni (including the world première recording of the Bach-Busoni "Goldberg" Variations). Stereophile magazine selected her Gershwin CD as "Recording of the Month," and her interpretation of Hollywood Piano Concertos won Germany's coveted Deutsches Schauplatten Preis. Most recently her recorded traversal of the score to Carl Dreiser's silent movie classic Master of the House (1925) may be heard on Criterion Collection DVD.
Sara Davis Buechner joined the faculty of Temple University's Boyer College of Music and Dance in 2016, after previously teaching at the Manhattan School of Music, New York University and the University of British Columbia.
---
Program Notes:
Samuel Barber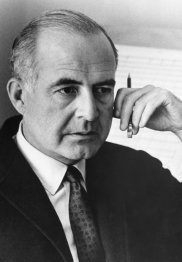 once said that "I was supposed to be a doctor, I was supposed to go to Princeton, and everything I was supposed to do I didn't." Perhaps he could have succeeded in that path, but his talent as a musician was evident from early on as he developed into a precocious singer, pianist and composer. At 14 years old he attended the Curtis Institute of Music in Philadelphia and his culminating work as a 21 year-old was his Overture to The School for Scandal, completed in 1931. The title refers to a comedic play, The School for Scandal, written by Richard Brinsley Sheridan in 1777. Ripe with attitude, the satiric play snipes at British aristocracy of the 18th century - imagine leading characters named Lady Sneerwell and Sir Benjamin Backbite. Interestingly, Barber's Overture has no correlation to the narrative of the play other than its energetic spirit, and there was no intention of performing the music with the play. As Magritte might say, "This is not an Overture." Fritz Reiner, conductor of the Curtis Orchestra at the time, declined to schedule it, thus its premiere was delayed until 1933 when Alexander Smallens and the Philadelphia Orchestra performed it to great reviews; that concert is considered a key event in Barber's career. That same year he received the Joseph H. Bearns Prize of Columbia University, established in 1921 to encourage young composers and is still awarded today. By the 1950's, Barber's Overture gained a solid position in American orchestral repertory, and his international reputation continued to spread after receiving two Pulitzer prizes: the first in 1958 for his opera Vanessa with libretto by his lifelong partner and Curtis schoolmate, Gian Carlo Menotti; and another for his Piano Concerto in 1962. His arrangement of the slow movement of his String Quartet, the famous Adagio for Strings, is iconic in our times. The Overture is in sonata form and is characteristically bright with changing tempos and dynamics. The opening clusters and trills give rise to a skittish theme whose fragments morph into a more lyric, sustained melody. Listen for the graceful solo oboe introducing the new theme, only to be taken by the strings into animated thrusts and then back again
to the sustained melody of the opening. Barber adds an extended coda section that builds into a pounding conclusion and a fractured ending. The score calls for piccolo, 2 flutes, 2 oboes, English horn, 2 clarinets, bass clarinet, 2 bassoons, 4 horns, 3 trumpets, 3 trombones, tuba, timpani, bass drum, cymbals, triangle, bells, celesta, harp and strings.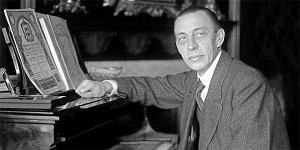 Sergei Rachmaninoff was a persistent and unapologetic voice of the traditional Russian Romanticism a la Tchaikovsky and Rimsky-Korsakov. Although he was a 20th century composer, the heart of his music was incongruous with the musical tastes of his times, e.g., the neoclassicism of Stravinsky and Prokofiev, or Schoenberg's serialism. He immigrated to America in 1918 and focused mainly on his career as a conductor and pianist. Following a 30-year career as a virtuoso performer he wrote the Rhapsody on a Theme of Paganini in the summer of 1934 at his villa in Switzerland, and premiered the same year in Baltimore with the composer playing the solo with the Philadelphia Orchestra conducted by Leopold Stokowski. The piece enjoyed great popular success, and Rachmaninoff went on to perform it throughout the U.S. The inspirational theme from Niccolò Paganini's Caprice in A minor, the last of his 24 Caprices for Solo Violin, was a bold choice. These 16 measures had already been thoroughly explored by numerous composers, among them Schumann, Liszt and Brahms, who used it as thematic material for their own works. Paganini himself started the tradition of varying the theme of his 24th Caprice. In spite of its many popular treatments, Rachmaninoff found a unique voice. Each variation is self-contained, and each has a clear connection to the Paganini theme. To avoid comparisons and expectations, he
cleverly obscured the famous tune by referring to "a theme" rather than the specific theme in the title, and he started with the first variation before explicitly stating the theme. Rachmaninoff's insight was to use the Dies Irae ("Day of Wrath") from the Catholic Requiem Mass for the Dead to suggest Paganini's supposed bargain with the devil to whom he owed his skill and soul. The 24 variations are formally held together as if it were a piano concerto, but with the loose feel of a rhapsody. A recurrent rhythm of five short notes followed by a longer one is as prevalent in the variations as is the seminal melody. Although the piece is performed without breaks, it can be divided into three overarching sections, interpretable as the three movements of a concerto. The initial 10 variations correspond to the first movement, variations 11 to 18 function as a slow movement, and the remaining variations comprise a finale. The orchestra includes: piccolo, 2 flutes, 2 oboes, English horn, 2 clarinets, 2 bassoons, 4 horns, 2 trumpets, 3 trombones, tuba, timpani, percussion (bass drum, cymbals, orchestra bells, snare drum, and triangle), harp, strings, and solo piano.
We first hear Paganini's theme in the strings with the piano highlighting thematic notes after the first variation. The first six variations maintain tempo and remain in the key of A minor as is Paganini's caprice, and are fairly faithful to Paganini's own variations. The seventh variation introduces the Dies Irae reference, first in the piano against the bassoon and cellos. The 11th variation contains a solo cadenza that introduces a new key and the beginning of a middle section. The remaining five variations return to the home key in preparation for a fiery finale. The slow 18th variation is the best known, and is often excerpted. This variation is the minor-key Paganini theme inverted (turned up-side down) to become a major-key, and has an unmistakable Russian sound, slow and lyric with Rachmaninoff's characteristic flair. The result is an outpouring of emotive melody that soars and then gently fades. Another cadenza leads to variation 23 with an explosion of energy and a closing reference to the Dies Irae from the brass. Then, counter to our anticipation, the piece ends with a quiet reference to Paganini. The 24th and last variation is technically difficult for the soloist. Rachmaninoff himself fretted over his ability to play it, and prior to performing it he reportedly would drink a shot of crème de menthe to calm his nerves, which led him to nickname it the "Crème de Menthe Variation." The Rhapsody was the last work he performed publicly, only two months before his death.
Rachmaninoff summed up his life as a composer shortly before his death in Beverly Hills: "In my own compositions, no conscious effort has been made to be original, or Romantic, or Nationalistic, or anything else. I write down on paper the music I hear within me, as naturally as possible… What I try to do when writing down my music, is to make it say simply and directly that which is in my heart when I am composing."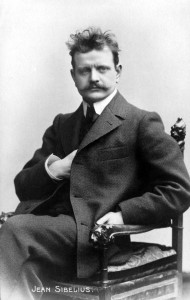 Jean Sibelius' Second Symphony is the most frequently performed of his symphonies, having become identified as representing the Finnish soul. Written during a period of Russian oppression by Tsar Nikolai II, its uplifting spirit appealed to the Finnish public. He had already established a major position within Scandinavian music for himself with his first symphony based upon the Kalevala, one of the most significant anthologies of Finnish literature. Then after the success of "Finlandia," the Second Symphony consolidated his fame as a national hero, popularly acclaimed as an emblem of national liberation. The premiere performance was Finnish listeners heard the symphony as a portrayal of their country's struggle for freedom against Russia, and Robert Kajanus, founder and conductor of the Helsinki Philharmonic Orchestra, described the Andante as "broken-hearted protest," the Scherzo as "frenetic preparation," and the Finale as "triumphant,…and confident." Sibelius adamantly denied any programmatic intentions, claiming that his symphonies are pure absolute music. His close friend, Baron Carl Axel Carpelan to whom the Second Symphony is dedicated, invited 36 year old Sibelius to Italy for a year. The Baron was not a person of means, but he had connections and managed to find a patron. Thus, Sibelius and his family left home in October of 1900, spent some time in Berlin, and then in January continued to a mountain villa in Genoa where he stayed until the spring. He wrote, "Now I am living completely in the world of the imagination - nothing disturbs me." Many of Sibelius' signature effects appear for the first time in the second symphony, such as repetitive string tremolos, extended pedal tones, and sparse harmony. There are passages with two different tempos overlaid simultaneously, and effects reminiscent of the tolling of a church bell. His orchestration is simple with only 2 flutes, 2 oboes, 2 clarinets, 2 bassoons, 4 horns, 3 trumpets, 3 trombones, tuba, timpani, and strings.
The premiere performance was in March 1902 by the Helsinki Symphony Orchestra and was conducted by him. The opening movement revolves into a coherent picture from fragments introduced and compounded over time. Halting chords in the strings in a rising three-note progression establish a motif fundamental to the entire symphony. The opening pulsing string figure begets the first theme introduced by dancing woodwinds. The melodies seem to grow out of each other. Listen for a long note followed by a turn and a falling fifth that becomes the first phrase of a delightful development later in the movement. The folksy dance of the woodwinds becomes the source for the movement's drama - an oboe plays a plaintive version, then the winds and horns alternate until the brasses step up the energy. The theme of the falling fifth returns in various transformations, and finally all of the musical motifs of the movement culminate into a grand coherent unity until the pastoral opening with its pulsing strings abruptly returns to end the movement on a gentle vibe. The dark slow movement (andante, ma rubato) is
rhapsodic in form, beginning with rolling timpani and pizzicato from the low strings. The bassoons contribute the first main theme of the movement, inspired by the figure of Death in the castle of Don Juan/Don Giovanni. Their melancholy is followed by brass fanfares and more pangs of tragedy from the strings. As the tempo accelerates and the brasses build to a climax, the bassoon theme now has a counterpart in a gentle "Christ theme." The two themes struggle and develop metaphorically in a fight between death and salvation. Borrowing from his first symphony, the movement ends with two pizzicato strokes. The start of the third movement scherzo (vivacissimo) is wild. Juxtaposed against frenetic strings is a slower repeated-note melody from the oboe and flute. The oboe actually repeats the same note nine times before dropping a musical fifth to create a palpable emotional affect. The trio's second appearance becomes a bridge to the finale and its expansive melody using the three-note ascending pattern that opened the symphony. The main theme of the finale (allegro moderato) shows an epic Sibelius. The rising three-tone motif returns in the strings, but instead of the woodwind instruments, we now hear trumpets. The ascending pattern expands into a luscious, soaring melody reminiscent of Tchaikovsky. The finale's other important theme is a sad woodwind march above agitated strings, and these two themes carry the symphony to a heart-pounding musical climax. Enjoy the thrilling moment when the rising three-tone motif finally, for the first time in the symphony, resolves to the fourth note. The glory continues and the energy ramps up even more, minor becomes major, and the triumph is literally played "sempre fff."
Notes by Theodore Bell