Masterworks 2: Rising Above

Scott Seaton | Conductor

Free pre-concert talk one hour before each performance.

Single Tickets range from $18 to $55 with discounts available for students and seniors.

Guest Artists:
John Yeh, clarinet
Carol Jacobson, cello
Michael Schwagerus, double bass

MENDELSSOHN String Symphony No. 7
COPLAND Clarinet Concerto
GRENFELL Concertino for Clarinet, Cello, Double Bass, and String Orchestra
VAUGHAN-WILLIAMS Fantasia on a Theme of Thomas Tallis

---

Now a year from the fires that devastated the North State, this program exemplifies the resilience of our communities and hope for the future. Chicago Symphony clarinetist John Yeh takes us to the heart of Copland's lyrical and jazzy Clarinet Concerto. Concluding the evening is the powerfully expressive Fantasia on a Theme by Thomas Tallis by Ralph Vaughan-Williams, a work saturated with endless melody and bountiful optimism.
---
Guest Artists Bios
Jon Yeh: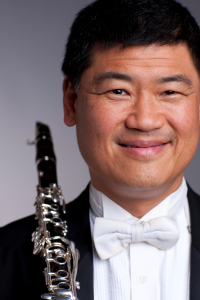 The first Asian musician ever appointed to the Chicago Symphony Orchestra, as well as the longest-serving clarinetist in CSO history, John Bruce Yeh joined the CSO in June of 1977, having been appointed solo Bass Clarinet of the Orchestra at the age of nineteen by Sir Georg Solti.  Two years later, he was named Assistant Principal and solo E-flat Clarinet.  He served as Acting Principal Clarinet of the CSO from 2008-2011.  Recently he has also performed as Guest Principal Clarinet of The Philadelphia Orchestra as well as of the Seoul Philharmonic in Korea and the Guangzhou Symphony Orchestra in China.
Yeh has performed concertos with the CSO on several occasions, including the 1998 American premiere of Elliott Carter's Clarinet Concerto with Pierre Boulez conducting, and the 1993 performance of Carl Nielsen's Clarinet Concertowith Neeme Järvi.  A concert recording of the Nielsen was released on the CSO CD set Soloists of the Orchestra II: From the Archives, vol. 15.  In 2004, Yeh was featured in Leonard Bernstein's Prelude, Fugue and Riffs in collaboration with the Hubbard Street Dance Company and the CSO conducted by David Robertson.  An enthusiastic champion of new music, John Bruce Yeh is the dedicatee of new works for clarinet by numerous composers, ranging from Ralph Shapey to John Williams.
A prizewinner at both the 1982 Munich International Music Competition and the 1985 Naumburg Clarinet Competition in New York, Yeh continues to solo with orchestras around the globe.  His more than a dozen solo and chamber music recordings have earned worldwide critical acclaim.  In 2007, Naxos International released a disc titled "Synergy," of single and double concertos with clarinet and symphonic wind ensemble featuring John, his wife Teresa, his daughter Molly, and the Columbus State University Wind Ensemble conducted by Robert Rumbelow.
Yeh is director of Chicago Pro Musica, which received the Grammy Award in 1986 for Best New Classical Artist.  He frequently appears at festivals and on chamber music series worldwide, and he has performed several times with Music from Marlboro; the Guarneri, Ying, Colorado, Pacifica, Calder, and Avalon string quartets; as well as the Chamber Music Society of Lincoln Center.  
With his wife, clarinetist Teresa Reilly, erhu virtuoso Wang Guowei, and pipa virtuoso Yang Wei, Yeh formed Birds and Phoenix an innovative quartet dedicated to musical exploration by bridging Eastern and Western musical cultures.  In their debut performance in September 2006, the group performed works by Victoria Bond, Pamela Chen, Lu Pei, and Bright Sheng, all commissioned for them by Fontana Chamber Arts in Kalamazoo, Michigan. 
Passionately committed to music education, Yeh served for twenty-six years on the faculty of DePaul University's School of Music, and he joined the faculty at Roosevelt University's Chicago College for the Performing Arts in 2004.  He has taught master classes at many universities and conservatories including the Juilliard, Eastman and Manhattan Schools of Music, The Cleveland Institute of Music, Northwestern University, and the University of Michigan.  In addition, he is on the faculty of Midwest Young Artists in Fort Sheridan, Illinois.
Born in Washington, D.C., and raised in Los Angeles, John Bruce Yeh pursued premedical studies at UCLA, where he also won the Frank Sinatra Musical Performance Award.  He entered the Juilliard School in 1975 and attended music schools in Aspen, Marlboro, and Tanglewood.  He cites Gordon Herritt, Gary Gray, Michele Zukovsky, Harold Wright, Ray Still, Marcel Moyse, Allan Dennis, and Mehli Mehta as influential mentors.
---
Michael Schwagerus: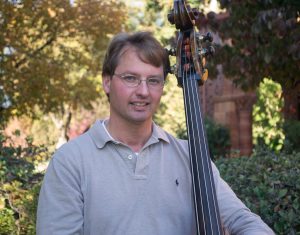 Michael Schwagerus, Double Bass, joined the North State Symphony in 2001 and continues serving there as Principal Bass.  During this time, he has also performed with the Sacramento Philharmonic, Modesto Symphony, Sacramento Choral Society, Sacramento Chamber Music Society, and was also principal Bass for the Townsend Opera.
As fulltime music teacher of St. James School in Davis, Michael enjoys conducting Concert Band and Choir while teaching K-8 music to the school's 300 students.
Michael maintains a private lesson studio of 45 students and teaches a variety of instruments including piano, guitar, and woodwinds.  His Bass students have been accepted to the Manhattan School of Music, Berkley School of Music, and Brubeck Institute Jazz Colony.  Michael also often serves as Bass coach for Orchestra sectionals at UC Davis Music Department.
---
Program Notes:
Mendelssohn's Seventh String Symphony in D minor was composed sometime between late 1821 and early 1822 when Mendelssohn was only 12 or 13 years old. His family was well-off, his mother of a prominent family and his father a leading banker in Germany. His talent thrived in an enriched environment with
private music instructors and regular "salon" concerts played by a small orchestra
that gathered at the Mendelssohn family home. Thirteen string symphonies were
composed for these concerts - one every two months!
The Allegro springs vigorously with a unison outburst of its angular theme, to be
contrasted with a lyrical second theme that sets two plaintiff violin sections
dancing above a gentle figural accompaniment. The direction of the second
movement is amorevole, or "loving" applied to an andante duet between two
meandering voices in two violin sections, all the while immersed in a flow of
sumptuous harmony. The Menuetto is in the spirit of a Haydn dance or a
Beethoven scherzo. Listen for the mysterious rising motive of the trio, and a coda
based only on the trio theme itself. His mastery of fugal counterpoint was the
focal technique of the finale, Allegro molto. Based on Mozart's "Jupiter"
Symphony, its tarantella-like theme is pure Mendelssohn, but the second theme,
introduced by the violas, is where his contrapuntal skills take the foreground until
the opening music returns for a brief final bow.
Aaron Copland completed the Concerto for Clarinet in 1948. The piece was
commissioned by legendary clarinetist Benny Goodman who also pre-reviewed
the manuscript and made a number of editing suggestions. With Goodman's
approval, the final version of the concerto was published in 1950, and was
premiered that same year on a radio broadcast by Goodman and the NBC
Symphony Orchestra, conducted by Frits Reiner. Two weeks later, clarinetist
Ralph McClane performed its public premiere with the Philadelphia Orchestra,
and the following year, choreographer Jerome Robbins set The Pied Piper to it.
There was also a recording of Goodman playing the Concerto with Copland
conducting the NBC Symphony Orchestra.
The piece's structure and instrumentation are unconventional. There are only
two movements, rather than the traditional three-movement concerto form. The
first movement is slow in tempo and shows the expressive capabilities of the
instrument. The virtuosity component appears in the cadenza that links the two
movements. The second movement is influenced by jazz and Latin music. Listen
for a popular Brazilian tune woven into the texture. Copland explained his jazz device this way: "The instrumentation being clarinet with strings, harp, and piano,
I did not have a large battery of percussion to achieve jazzy effects, so I used
slapping basses and whacking harp sounds to simulate them." The Concerto ends
with an extended coda that finishes with a classic jazz glissando "smear."
Maria Grenfell's Concertino for Clarinet, Cello, Double Bass, and String Orchestra was commissioned for the Composing Women's Festival in Auckland, New Zealand, in 1995. The Concertino is a single-movement work that features the soloists in a type of "mini-triple concerto." The solo parts are rhapsodic, often featuring arpeggiated gestures from low register to high, with rhythmic sections including unmeasured passages, and a cadenza for the trio. Her work is eclectic drawing on many influences from poetic, literary and visual sources and from non-Western music and literature as well. Grenfell was born in Malaysia, but her studies in composition have taken her from New Zealand, to the Eastman School of Music in Rochester, New York, and the University of Southern California.
As a high school student in Christchurch, New Zealand, Grenfell developed an
interest in composition after her music teacher encouraged her to write short
pieces for the school musical. She credits her education at USC as the foundation
for her career as a composer and educator. "I soaked up a lot of concerts at USC
and around Los Angeles, and it was so stimulating and eye-opening to hear
amazing performances from all different genres and ensembles," says Grenfell.
"Being from New Zealand, it was a wonderful experience living in Los Angeles, and
I tried to get out and about as much as my studies would allow." She has been
commissioned or performed by orchestra throughout Australia and New Zealand,
and has had a number of chamber and orchestral pieces recorded on commercial
CDs. Her reputation has grown to international acclaim.
The melodies open with angular soaring lines, some dissonant some not so much.
Your ear is constantly drawn to the intense flow leading you deeper and deeper
into the music. Wait for the buildup, then a cataclysmic collapse of the strings
into an eerie dissonant lyricism. The cello and bass play a beautiful duet that is
joined by the clarinet. Soothing strings belie the dissonant undertones. The
soloists also present a chamber-quality to themselves. Sudden rolls of
consonance flow through leading to light lively dancelike, rapid articulations that
wind up to a sudden ending.
Ralph Vaughan Williams composed the Fantasia on a Theme of Thomas Tallis in 1910, but twice revised it. The first performance took place that same year in Gloucester Cathedral with the composer conducting the London Symphony
Orchestra. He piece was a sleeper, as the premier was second billing to Elgar's
magnificent Dream of Gerontius, and all but a few critics overlooked the
significance of the work. One positive reviewer commented that "One is living in
two centuries at once… Throughout its course one is never quite sure whether
one is listening to something very old or very new. The work is wonderful because
it seems to lift one into some unknown regions of musical thought and feeling."
That critic was prophetic, and by the 1930's the Fantasia became one of the most
famous and frequently performed of modern English works.
Born into an educated, upper middle-class family, Vaughan Williams attended
Cambridge University and studied with eminent musicians and scholars, including
Maurice Ravel. His friends and associates included such celebrities as Bertram
Russell, Leopold Stokowski, and Gustav Holst. In his early 30's he and Holst were
leaders in the serious study of English folksongs in the late nineteenth century;
they frequently explored the countryside transcribing this vanishing body of
songs. His appreciation of this great literature became a major influence on his
musical style, and following studies with Bruch in Berlin (1897) and Ravel in Paris
(1908), he sought his inspiration from his own native resources - the rich musical
traditions of English folk song. He was also a scholar of the Anglican liturgical
tradition as Editor of the 1906 English Hymnal for the Church of England, and
from this body he found his inspiration for the Fantasia: Thomas Tallis' Third
Psalter Tune, set to the words "Why fumeth in fight?" written in 1567 and
featured as hymn number 92 in Vaughan Williams' hymnal. Tallis is considered
England's "Father of the Church Hymn" and one of the most important of English
composers of the Tudor era. The tune's original title was simply "Third Mode
Melody," which refers to it being in the Phrygian church mode – a mysterious
mode that can be heard by playing the tonic mode from "mi" to "mi."
The Fantasia opens with "magic chords" Vaughan Williams referred to them - a
series of descending chords establishing the mystical atmosphere of the work.
The changes between these chords aren't strongly harmonic, but rather simply a
rich Impressionist aesthetic. Then the tune is heard in its entirety a few bars after
the introduction, played by the celli and violas, with the high strings in tremolo
above in harmony.  The main tune is heard several times, but various elements of the melody emerge to create the "fantasy," which was a typical musical
procedure during the sixteenth century. The fantasia form was derived from the
madrigal, in which the musicians discourse over a musical idea, then pass on to
another snippet of theme and develop it for a time, and so on. In this fashion,
Tallis' tune becomes a stream of consciousness that climaxes in the expansive
harmony. Amazing textures are achieved by taking on three different-sized string
ensembles: a full string section, a smaller group of nine players, and a quartet.
Throughout the piece, the smaller orchestra tends to shadow the larger
orchestra, and the quartet, in contrast, is used to introduce new thematic
material. The Phrygian source melody is used in two sections. The first half
consists of two very similar phrases, and the second consists of two contrasting
rhythmic phrases. A charming viola solo breaks the theme midway through.
Enjoy the richness of the score. The work ends with the same mystical chords
that commenced it, over which the solo violin delivers a farewell.
- Theodore Bell
SaveSave
SaveSave