Masterworks 1 - Latin Fireworks: Mariachi meets the Symphony
Conductor Scott Seaton
Guest Soloists:
Mariachi Garibaldi de Jaime Cuéllar
Program:
MARQUEZ - Danzon No. 4
ROSAS Sobre Las Olas (Arr. Aubrey Winter)
GINASTERA - Estancia
REVUELTAS - Janitzio
Led by three-time Grammy award winner, Jaime Cuéllar and his Mariachi Garibaldi de Jaime Cuéllar have captivated audiences in major theaters throughout the United States, including the John Anson Ford Amphitheatre, The Fox Theatre of Bakersfield, and the Auditorium Theater in Chicago. They join the North State Symphony in a program that explores the exciting world of Mariachi as well as featuring Arturo Márquez, Juventino Rosas, and other prominent Latin American composers.
---
About the Artists
Mariachi Garibaldi de Jaime Cuéllar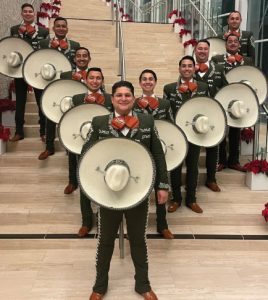 Originally from Bakersfield, California, Jimmy Cuellar began his mariachi career as a teenager alongside his father Jaime Cuellar and was a founding member of Mariachi Garibaldi de Jaime Cuellar. His dedication to his musical craft drove "El Pollo" to fine-tune his skills on the violin, guitarron, vihuela, guitar and guitarra de golpe, securing him a ten-year tenure with Mariachi Los Camperos de Nati Cano.
In subsequent years, Jimmy accompanied well known Latin recording artists Yolanda del Rio, Mercedes Castro, Humberto Herrera, Lila Downs, Vikki Carr, Aida Cuevas, Eugenia Leon, and Jose Feliciano as well as has been an instrumental member in various recoding productions, including the 2010 release of Ry Cooder and The Chieftains, San Patricio.
Beginning In 2005, Jimmy saw Grammy success when he was a featured artist on the Grammy Award winning album cELLAbration: A Tribute to Ella Jenkins. The following year "Llegaron Los Camperos: Concert Favorites of Nati Cano's Mariachi Los Camperos" received a Grammy nomination for "Best Mexican Album". 2008 added to his Grammy success with "Cien Por Ciento Mexicano" by Pepe Aguilar with 2009 rounding out a Grammy award to add to his mantle for Best Regional Mexican Album with "Amor, Dolor, y Lagrimas".
Composer, arranger, multi-instrumentalist, three-time Grammy Award nominated and three time Grammy Award Winner, Mr. Cuellar understands the importance of education. Having received his Bachelor of Arts degree from California State University, Long Beach's Bob Cole Conservatory of Music in 2009, "El Pollo" decided to continue his musical education and enroll with the University of Nevada, Las Vegas where he is pursuing a Masters in Music Composition. His talents as an educator as well as nationally-regarded expert in the genre have earned Jimmy a yearly seat as an adjudicator for the statewide Mariachi Competition held in Texas. Along with Kareli Montoya, he runs Thee Academy, one of the most prominent joint Folklorico/Mariachi schools in the West.
https://mariachigaribaldi.net/