May Symphony: Mahler's World
Scott Seaton | Conductor
Saturday, May 13, 2017 @ 7:30PM Cascade Theatre, Redding, CA
Sunday, May 14, 2017 @ 2PM Laxson Auditorium, Chico, CA
Guest Artist
Diego Bustamante, Piano
Young Artist Audition Winner
Mozart: Piano Concerto No. 20, I
Mahler: Symphony No. 5 in C-Sharp minor
Gustav Mahler once said, "A symphony must be like the world.  It must contain everything."  There is certainly no exception with his fifth symphony, which takes us on an emotional roller coaster from tragedy to triumph with an orchestra on the largest of scales.  Also on the program is Diego Bustamente, our Young Artist Competition Winner, who will dazzle us with the soaring melodies and crisp rhythms of the Mozart Piano Concerto No. 20.
Free pre-concert talk one hour before each performance.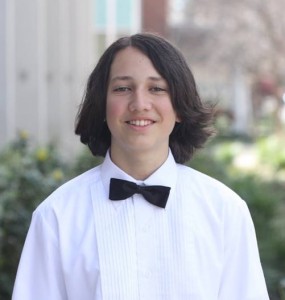 Diego Bustamante, Piano
Diego is 17 years old and lives in Paradise. He is currently completing his college preparatory requirements at Butte College while enrolled as a senior at the Progressive Schoolhouse in Chico. He has been studying piano for ten years, starting in the Musikgarten program directed by Jill Lundberg. Now he studies under the direction of Dr. Robert Bowman and has been with him for seven years. His achievements include, winning the Paradise Symphony Young Artist Auditions in 2013 and 2016, both times getting to solo with their orchestra; and performing in the 2015 Music Teacher's Association of California's Piano Panel Honors Recital, which features young pianists selected through a statewide audition process. His most recent award was winning 1st place in the 2016 Classical Masters Music Festival competition. Along with his love of classical music, Diego is also a very active ragtime musician. He has won the West Coast Ragtime Society's youth competition 4 times and plays annually at the Sutter Creek and West Coast Ragtime Festivals. One of his more unique experiences was accompanying a silent movie at the 2016 Chico Silent Film Festival. He also completed his very first CD in 2015, called "Ragtime and Classical, Side by Side." This year he will be checking out different universities and conservatories to choose where he would like to pursue his musical passion. Aside from his love of music, Diego is an avid birder and has begun leading groups on birding field trips.