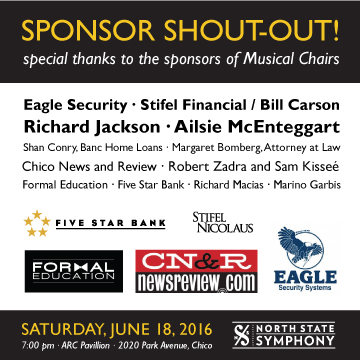 The North State Symphony is excited to hold our third annual Musical Chairs fundraising event June 18, 2016 at the Arc Pavilion in Chico. This year's fun and creative event will feature a live and silent auction of "chair as art" by local artists, delicious food, no host bar, and fabulous entertainment. All proceeds will help the North State Symphony bring classical music to our community.
CLICK HERE to buy tickets!
WOULD YOU LIKE TO PARTICIPATE AS AN ARTIST?
We are looking for artists to transform ordinary chairs into works of art, or take the inspiration of a chair and create a piece of art.
If you are interested in doing a chair, please contact Tessa Van Der Meijden at tessavandermeijden@yahoo.com.
SPEAKING OF CHAIRS – WE NEED CHAIRS (and even parts of chairs)!
Not artistic? Do you have a few chairs lying around you don't need anymore? Consider donating them to the event for our artists to use.
Donated chairs may be dropped off at Eagle Security in north Chico, 8am-5pm, Monday-Friday.
WOULD YOU LIKE TO BE A SPONSOR?
From sponsoring the event to sponsoring an artist, we have several sponsorship opportunities available. This event is well attended and offers the opportunity for your sponsorship to be seen by a large and diverse audience from our community. As a sponsor, you will be acknowledged in event promotions, at the event itself, and in the North State Symphony concert program. Please contact Adrienne Glatz at aglatz@csuchico.edu or 530-898-6162, for more information.
Click here for more details about Musical Chairs