November Symphony: Inspired By Italy
Scott Seaton | Conductor
Saturday, November 12, 2016 @ 7:30PM Cascade Theatre, Redding, CA
Sunday, November 13, 2016 @ 2PM Laxson Auditorium, Chico, CA
Guest Artist
John Hagstrom, Trumpet
Rossini: Barber of Seville Overture
Hummel: Trumpet Concerto in E major
Daugherty: Strut
Mendelssohn: Symphony No. 4 in A major, Op. 90 Italian
From the soaring sounds of Chicago Symphony trumpeter John Hagstrom to a Rossini overture that will make you reminisce of Bugs Bunny, this concert has composers that were directly affected by the musical culture and beautiful landscapes that Italy offers.  American composer Michael Daugherty created Strut, a string orchestra work that jives from beginning to end with fearless fiddling and vibrant syncopations that really set the stage for Mendelssohn's famous Italian Symphony that closes out the evening.
Free pre-concert talk one hour before each performance.
---
John Hagstrom, Trumpet
John Hagstro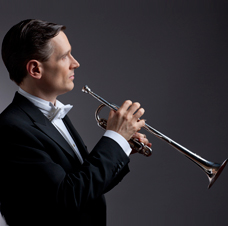 m has been a member of the Chicago Symphony Orchestra's trumpet section since 1996, when he won the audition for fourth trumpet.  A year later, he won the second trumpet position, carrying on the tradition of brass section teamwork for which the CSO is famous.  Previously, he was principal trumpet of the Wichita Symphony Orchestra in Kansas, and served as assistant professor of trumpet at Wichita State University.
A native Chicagoan, Hagstrom grew up listening to the CSO. Five years of study at the Eastman School of Music were followed by six years in "The President's Own" United States Marine Band in Washington, D.C., where he spent three of those years as principal trumpet. His many solo appearances with the band included four national concert tours and the Camp David wedding of (Sr.) President Bush's daughter, Dorothy.
Hagstrom is passionate in his support of music education, and helped to initiate Dream Out Loud, the CSO's music education advocacy program that offers a variety of resources designed to support every student's interest in playing an instrument, providing encouragement through times of challenge. To learn more about Dream Out Loud, visit cso.org/dreamoutloud.
---
Program Notes


Rossini's Overture to The Barber of Seville has endured as one of the more recognizable operatic overtures in popular culture.  Perhaps you were introduced to this famous theme as the music behind Woody Woodpecker or Bugs Bunny; Seinfeld used the allegro to underscore a plot with a barber and an infidel in an episode from 1993.  His infectious style comes from his study of Mozart's operas, engaging with an energetic ostinato that is spun into dramatic climax.  Rossini was immensely popular and prolific through the mid-nineteenth century, and inspired such operatic luminaries as Verdi and Puccini.  He is considered the finest composer of the theatrical music called opera buffa that usually accompanied light-hearted comedy with tuneful melodies.   He was known for speed, and composed The Barber of Seville, his 17th opera, in a period of only three weeks when he was 24 years old.  The opening was a theatrical failure allegedly brought down by sabotage from a competitor.  Rossini was unamused by the calamity and subterfuge, although later performances were universally hailed and history has forgiven that laughable opening.  The original Overture was lost shortly after the 1816 premiere, and the Overture that we know was borrowed from an earlier opera originally written in 1813, so it has only faint resemblance to the opera itself.  The Overture begins with a slow Andante maestoso alternating between forte orchestral passages contrasted by smaller subgroups of instruments providing seemingly introspective moments.   The famous theme cannot be suppressed, get ready for the sprightly allegro and the iconic Rossini sound we so fondly recall and probably ourselves have quoted.  The orchestra includes: 2 flutes, 2 oboes, 2 clarinets, 2 bassoons, 2 horns, 2 trumpets, timpani, percussion, and strings.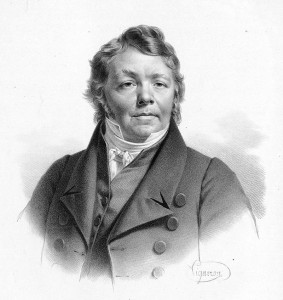 Hummel's Trumpet Concerto in E major was commissioned to showcase a technological advance in trumpet design by Anton Weidinger, a trumpeter in the Vienna Court Orchestra when Hummel was in service there.  Weidinger, himself, commissioned the Concerto and gave the first performance on New Year's Day in 1804.  Hummel was born in Slovakia in 1778, and at eight years old, his family moved to Vienna so that young Johann could cultivate his immense talents and study piano with Mozart.  By the age of ten years, he began his virtuoso performing career, but within a few years he returned to Vienna to further his studies.  Those relationships led to his appointment as Konzertmeister to Prince Nikolaus Esterházy assuming the duties that Haydn once performed.  He remained in the service of the Prince until 1811, when he again resumed his career as a virtuoso pianist.  During his time in the court in the 1790's, Weidinger had invented his radical new trumpet.  The trumpet of the era had no valves or vents, thus the instrument was limited to its fundamental pitch and harmonic series.  Deriving inspiration from the woodwind instruments, Weidinger drilled holes along the tubing of the instrument that could be opened and closed to control the pitch.   For the first time, trumpeters had the entire chromatic scale at their fingertips, transforming the very character of the instrument that essentially produced a new music.  He commissioned concertos from Haydn in 1796 and from Hummel in 1803, and both have become standards in the genre.  Hummel masterfully exploited the new chromatic possibilities with uncommon modulations and virtuosic flourishes.  Weidinger went on to perform the Concerto and showcasing his new instrument throughout Europe.   An orchestral exposition leads to the formal entry of the soloist with his version of the principal theme and the soloist's exposition and development.  The slow movement begins in the minor key; the soloist's prolonged trill introduces the theme.  The rondo returns to the major key, signaled by repeated notes from the soloist.  Enjoy what must have been perceived as a fantastic new musical instrument to the ears of the era.  The Concerto is scored for scored for trumpet solo, flute, 2 oboes, 2 clarinets, 2 bassoons, 2 horns, timpani and strings.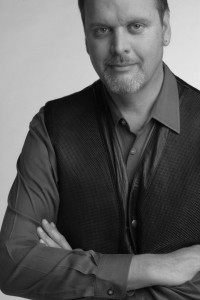 Michael Daugherty's "Strut" for string orchestra is a tribute to iconic African-American singer, actor and social-political activist, Paul Robeson, whose career was curtailed in 1950 when J. Edgar Hoover considered him "subversive."   Strut depicts the optimism and creativity of the Harlem Renaissance (1920-30) in which Paul Robeson was a central figure.  Imagine a youthful and resilient Robeson strutting down 125th street in Harlem during the 1920's.   Daugherty's music uses dynamic syncopated motifs to form a tapestry of rhythmic threads. Like Robeson's life, its funky riffs and cool jazz elements are interrupted by a reverent sadness.  The effect is both exciting and moving.   Slaps mixed with energetic vibrato create the swagger. Listen for the glissandos that pass through the sections like a crowd doing the wave around a stadium.   Daugherty's studied in Paris at Boulez's IRCAM or in Hamburg with György Ligeti, his works draw their themes from nostalgic Americana.  Strut premiered in 1989, commissioned by the New York State School Music Association, Honor String Orchestra, conducted by Larry Rachleff.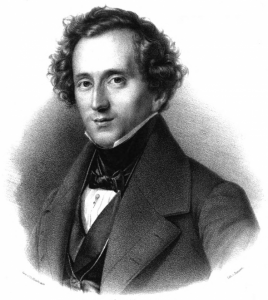 Mendelssohn's Symphony No. 4 in A major, Op. 90 the Italian, was inspired by his travels to Italy in the 1830's.  His optimism and happy mood shine through as he studied Italian art while touring Europe.  He spent time in Venice, Florence, Rome, Naples and other cultural hubs before returning home to Britain by way of Switzerland.  Mendelssohn was also an avid watercolorist, and he toured the great museums and galleries of Italy.  The optimistic character and sunny, blue-skies of the Italian Symphony began with these good times and aesthetic influences.  Interestingly, the Italian Symphony is Italian in mood only.   Mendelssohn expressed how Italy made him feel, as opposed to using thematic or stylistic characteristics of Italian music, per se.  Not until the end of the symphony does he quote a genuine Italian national tune, but the wonderfully buoyant optimism and elegant style he absorbed in Italy shine throughout the work. The joyful first movement is in the classic sonata form, followed by a minor-key impression of a religious procession that Mendelssohn witnessed in Naples.  The third movement minuet features the horns in its trio, while the final movement incorporates Roman saltarello and  Neapolitan tarantella dances.   The Italian symphony was among the first of the large-scale orchestral works to start in a major key and end in the tonic minor.  The orchestra requires 2 flutes, 2 oboes, 2 clarinets, 2 bassoons, 2 horns, 2 trumpets, timpani, and strings.
Program notes provided by Theodore Bell.
---