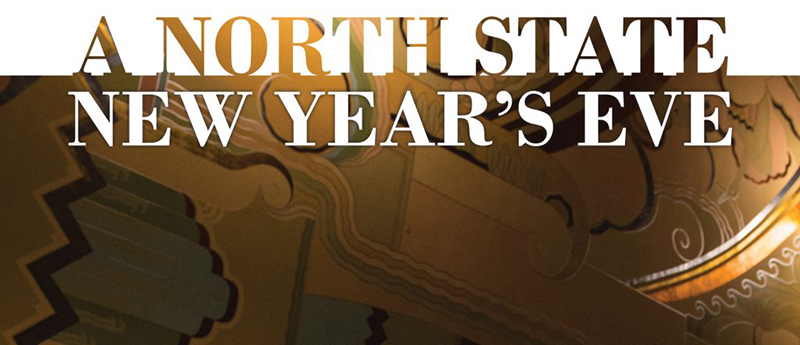 NSS POPS! A North State New Year's Eve
Scott Seaton | Conductor
Monday, December 31, 2018 6:00-9:00PM 
Cascade Theatre, Redding, CA
Call the Cascade Theatre Box Office to reserve seats! 530-243-8877
Our third annual New Year's Eve party is back in Redding! The North State Symphony starts your celebration off in style with music, champagne, and conversation, then continues with a concert featuring a wide variety of music and guest artists. You'll hear hits from musicals and opera, big band favorites, and Gershwin's beloved "Rhapsody in Blue." Enjoy the concert, dancing, celebrating, and much more!
To welcome in 2019, the North State Symphony is rolling out the Red Carpet (literally) at Redding's Historic Cascade Theatre! "A North State New Year's Eve" features a dynamic pops concert with special guests Alpin Hong on piano, and mezzo-soprano Molly Mahoney - plus a party at the theatre and a celebration of downtown Redding!
Music director Scott Seaton will lead the North State Symphony in a toe-tapping concert anchored by Gershwin's beloved "Rhapsody in Blue," plus jazz favorites, big band classics, Broadway hits, and more! The concert concludes with an "Auld Lang Syne" singalong at 9pm.
The Cascade party features a dance floor, photo booth, and more. Concert tickets include complementary champagne, delicious treats, and access to a no-host bar. Then celebrate downtown all evening long with special offers from our restaurant and bar partners.
Special hotel rates are available at Oxford Suites Redding
Guest Artists:
Alpin Hong, Piano
Molly Mahoney, Mezzo-Soprano
Program Content:
Tchaikovsky Swan Lake Waltz
Gershwin Rhapsody in Blue
Strauss Tales from Vienna Woods
Loessler What are You Doing New Year's Eve?
And More!
---

We had such a wonderful time celebrating the new year with so many symphony friends! Check out pictures from our festive photobooth on our facebook page - you don't have to be signed on to view the photos, but if you are, be sure to "like" our page, and tag your friends!
---

OUR SPONSORS: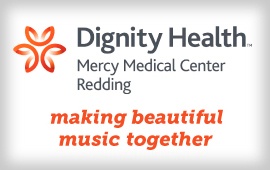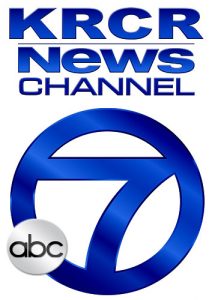 Doreeta Domke
                                                                                                          Founding Sponsor
---
Our hotel partner: Oxford Suites Redding
1967 Hilltop Dr.
Redding, CA 96002
530-221-0100
www.oxfordsuitesredding.com
Please call the Oxford Suites at 530-221-0100 and ask for the "North State Symphony" Group Block to get a discounted rate.
Shuttles to and from the Cascade Theatre will be available.
Rates for queen and king suites start at $102.00 and includes a complimentary breakfast buffet and evening reception.
---
Whirlwind American tours and performances across the globe have earned pianist Alpin Hong the reputation as a modern day Pied Piper. From Walt Disney Hall to the White House, his combination of stunning technique, emotional range, and rare humor continues to bring audiences young and old to their feet. Rooted in extensive classical training and a background in extreme sports, martial arts, and video games, Mr. Hong is a creative force unmatched in his vitality and charisma. The New York Times called him a pianistic firebrand in a review of his standing-room only New York recital debut at Carnegie Hall's Weill Recital Hall. The Idaho Statesman said, "Hong cut a magnetic physical presence and charmed the audience with engaging, powerful movements that were fun to watch. Throughout the piece he and the orchestra showed a wonderful give and take." The Santa Barbara News Press hailed him as "a tour de force. Mr. Hong evoked a kind of Beatlemania when he came on stage. What a showman! What a musician!" His ability to captivate young audiences prompted the Ocala Star-Banner to call him "Classical for the iGeneration".
Recent performance highlights include the world premiere of his collaboration with The Flying Carpet Theater, Chasing Chopin. A daring mashup of autobiographical storytelling and dazzling piano performance, this extraordinary production toured the United States during the 2015-2016 season, culminating with performances at Lincoln Center in New York City. Mr. Hong's performances of Tchaikovsky's epic Piano Concerto No. 1 electrified the season openers of the Cheyenne and North State Symphony Orchestras, as well as his astounding rendition of Beethoven Piano Concerto No. 3 with his hometown Riverside County Philharmonic. His third studio album Myths and Legends featuring works by Mussorgsky, Mendelssohn, Rachmaninoff and Chopin was released to rave reviews, and his groundbreaking collaborations with rock bands Crushed Out and Harrison Fjord continue to redefine the classical concert experience. Mr. Hong's visionary approach to arts education makes him a sought-after clinician and Artist-in-Residence worldwide. He was the inaugural artist for the PLAY! series for Premiere Performances of Hong Kong, performing and lecturing in the country's premier schools. His collaboration with Atlanta's Trinity School culminated in a gala performance in Atlanta Symphony Hall, featuring Mr. Hong, members of the Atlanta Symphony Orchestra, rising violin star Ben Beilman and Trinity students. He recently returned to his hometown of Kalamazoo, Michigan to curate a concert combining orchestral musicians from six different area schools with the Kalamazoo Symphony. In recognition of the pianist's gift for communicating his passion for music to audiences of all ages, The McGraw-Hill Companies honored him with the Robert Sherman Award for Music Education and Community Outreach. Mr. Hong was recently appointed Music Director of the Riverside Arts Academy, where he has launched Harmony Project Riverside. This progressive program offers music training and instruments to underserved youth for little or no cost, and Mr. Hong has united these kids to form the region's first youth orchestra. In addition to his musical talents, Mr. Hong is an internationally renowned speaker and host. His message of artistry, tolerance, and service knits communities together in a spirit of common humanity. Mr. Hong's recent TEDx talk "Transform Yourself Into a Performer" at La Sierra University showcased his ability to inspire excellence in everyone. Mr. Hong is regularly featured as a keynote speaker for philanthropic and educational events, including the Korean American Scholarship Foundation's National Gala, the Michigan Music Teachers Association annual conference, WDPR Dayton's Catch a Rising Star Gala, the Alvord School District's 2016 Convocation in Riverside, California, and Diversity Day in Idaho Falls in honor of the Martin Luther King Jr. holiday. Alpin Hong is a native of Michigan and made his orchestral debut with the Kalamazoo Symphony at the age of ten. He moved to Los Angeles soon after and garnered competition victories at a young age with wins at the 1989 Stravinsky Piano Competition, the 1993 Southern Youth Music Festival Competition and the 1994 Los Angeles Spotlight Awards Competition. He was the winner of the Concert Artists Guild Competition in 2001. His teachers include Mark Richman and Emilio del Rosario. He completed his Master's degree as a student of Jerome Lowenthal at The Juilliard School.
Molly Mahoney's sublime singing, memorable humor, and heartfelt portrayals seen in a variety of repertoire have charmed audiences and critics alike. A stylistically diverse performer, she sings opera, musical theater, and jazz with equal aplomb.
A favorite of San Francisco Bay Area audiences, Molly's 2016-17 season includes performances as Lady Angela in Patience with Lamplighters Music Theatre, Angelina in Cinderella with San Francisco Opera Guild Outreach, performances for West Edge Opera's new works series, Snapshot, and as Clizia in West Edge Opera's production of The Chastity Tree by Vicente Martín y Soler. She also returns to Society Cabaret in San Francisco's Union Square after the success of her one woman show, Mischief!which debuted there the previous year.
In the 2015-16 season, Molly made her role debut as Beggar Woman in Sweeney Todd with Townsend Opera and Fresno Grand Opera after her introduction to the company as a soloist in Opera Remix: Music and Verse. She returned to Livermore Valley Opera, singing the role of Zulma in L'Italiana in Algeri, and performed Renu in Jack Perla's River of Light with Festival Opera. The season also saw Molly's return to Ars Minerva, portraying Cillene in the modern world premiere of Pallavicino's opera Le Amazzoni nelle Isole Fortunate. Of that performance, the San Francisco Classical Voice claimed, "Molly Mahoney was very funny as madwoman Cillene and her strong, ice-tone voice served her well." The mezzo made her company debut the previous year in another modern world premiere as Arsinoë in La Cleopatra by Castrovillari.
During the 2014-15 season, Molly returned for her third appearance as a soloist with the North State Symphony, reprised her portrayal of the title role in La tragédie de Carmen, returned to West Bay Opera as Siébel in Faust, and sang the role of Soprano II in Philip Glass's Hydrogen Jukebox with West Edge Opera, where her voice was described as having "sheer beauty and eloquence" by the San Francisco Chronicle.
Previous seasons include performances as Zweite Dame in Die Zauberflöte, Gianetta in L'elisir d'amore, Zerlina in Don Giovanni, and Tolomeo in Giulio Cesare, in addition to concert performances as alto soloist for the Mozart Mass in C Minor and Handel's Messiah.
An experienced interpreter of the operettas of Gilbert and Sullivan, Molly has portrayed the roles of Melissa in Princess Ida and Pitti-Sing in The Mikado with Lamplighters Musical Theater, in addition to the title role in Iolanthe in a recorded performance named one of the Top 12 Must Have Opera CD Releases of 2014 by Opera News. The glowing review highlighted the "simplicity and eloquence" of Molly's performance as the beloved exiled fairy. Her musical theater credits include Adelaide in Guys and Dolls, Anne Collier in 1940s Radio Hour, Hodel in Fiddler on the Roofand Maisie in The Boyfriend.
Molly champions the Great American Songbook, singing with Big Bands since the age of ten. She has appeared in concert with Vinnie Falcone, musical director and accompanist for the late Frank Sinatra, and she has toured nationally as a jazz singer. Her soulful, honest portrayals of familiar favorites and rare gems from this musical era can be heard on her debut album, Two for the Road.
A native of Minneapolis, Molly currently resides in San Francisco. She holds a Master of Music degree in Vocal Performance from the San Francisco Conservatory of Music.