UPDATE: The Chico performance has been cancelled due to concerns about COVID-19. More information is available here.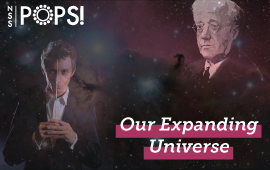 Experience the final frontier when the NSS performs some of Hollywood's greatest Sci-Fi and television themes for our spring NSS POPS! concert. You will be on the edge of your seat with music from Star Trek, Apollo 13, Star Wars, Close Encounters of the Third Kind, and more! This exciting program will also highlight music from The Planets by Gustav Holst.
Saturday, April 4, 2020 - 2:00 PM
State Theatre, Red Bluff
Saturday, April 4, 2020 – 7:30 PM
Cascade Theatre, Redding
Sunday, April 5, 2020 – 2:00 PM
Laxson Auditorium, Chico
New this year – season ticket-holders will be able to purchase NSS POPS! tickets at the same discount that you get for Masterworks! It's like a bonus to your season ticket savings. Take advantage of this offer before single tickets to all concerts go on sale in August!
To purchase your 2019-2020 Masterworks season tickets, contact our box offices below.  You can also purchase single tickets for our Holiday, Pops, and Chamber Music concerts at the same time.
University Box Office (Chico)
Phone: (530) 898-6333
Summer hours: Monday to Thursday, 10am to 5pm
Online: https://tinyurl.com/nssmastersworks19-20
Cascade Theatre Box Office (Redding) 
Phone: (530) 243-8877
Hours: Tuesday to Friday, 11am to 6pm
Online: https://cascadetheatre.org/Online/default.asp?doWork::WScontent::loadArticle=Load&BOparam::WScontent::loadArticle::article_id=7B3B1C62-BAF3-42E1-9041-A69A51353E35&menu_id=AB3E61D8-16FE-409F-8B23-8BDF93201F04&sToken=1%2C4555377c%2C5d1129de%2C89AEA19A-05AA-4294-A2C7-E5528C33069A%2Cn6Oo5h3fuC70qnjdp%2B35URzbmMY%3D
State Theatre (Red Bluff)
Single tickets will be available through the Tehama Concert Series
https://www.tehamaconcertseries.org