March of 2021 was Youth Celebration Month, but don't worry - if you missed out on the fun, all of our virtual concerts and activities are still online!
In March of 2020, NSS's Youth Concerts were its last live theatre performances of the season before the Covid-19 lockdowns terminated live events.
This year, NSS resolved to continue our 20 year history of annual Youth Concerts, despite continued restrictions on live performances. NSS decided to produce the Youth Concerts in a 100% virtual format. The theme was "Conversations". Small groups of musicians replaced a full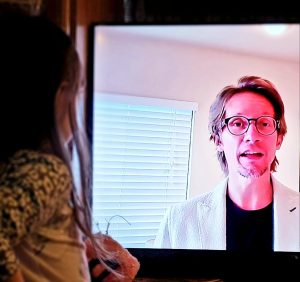 orchestra. Musicians rehearsed and performed remotely or, if living together, recorded their performances at home. The musicians also contributed short instrument demos and personal introductions. Music Director Scott Seaton and NSS staff worked together to produce the storyboard, video, and supplementary education material entirely within house.
NSS produced two concert videos: one for young people in 1st grade and above, and one for our littlest viewers. On the left, photo of a pre-schooler enjoying the Little One's concert with her grandmother from home.
| | |
| --- | --- |
| CONVERSATIONS Teacher Resource Guide for Little One's Concert - click to download | CONVERSATIONS Teacher Resource Guide for Young People's Concert - click to download |
| Conversations Young People's Concert Video | Conversations Little One's Concert Video |
Additionally, NSS took the entire month of March 2021 to celebrate North State youth. This celebration began with two brand new "Just Ask" videos, where Scott interviewed student musicians and soloists. Following these live interviews, NSS released three previously unreleased videos from past concerts, featuring these same young artists.
CLICK HERE TO WATCH YOUTH "JUST ASK!"
March's month-long celebration of youth continued with NSS's Young Artist Auditions. This annual concerto competition also became virtual this year, with high school and college students submitting their audition videos for Scott and a panel of judges to review. Winners were announced on April 1, and we look forward to working these talented young performers next season.
When our Youth Concert video was released to North State teachers and educators, NSS spent a week visiting select schools virtually! Scott hosted our youth concert video on Zoom to classrooms, with a live introduction and question and answer sessions.
This format was an informative experiment and a great success! Attendees were very engaged, enthusiastic, and Scott was able to field over 75 individual questions from participants. Most exciting of all, we reached the broadest geographic spread of any youth concert in NSS history - with participating schools from Sacramento to the Oregon border.
NSS is proud of our outreach to young people throughout the North State, and we're grateful that technology helped us continue this important work during a time when arts organizations are off stage. We hope to incorporate these new tools and outreach opportunities in the future.
Youth Concert Sponsors
California Association for the Education of Young Children
Chuck and Joan Genthe
---
Praise for NSS Youth Concert Q and A Sessions
Mountain View Middle School
Ruth Polcari, Teacher
"Thanks for including our school on the Virtual Tour. It was a great event and the students enjoyed it! It's so good for the music community, helping students to become excited about music again in the schools. It has been a very hard year. These concerts are so good in regular times, but this year they were special."