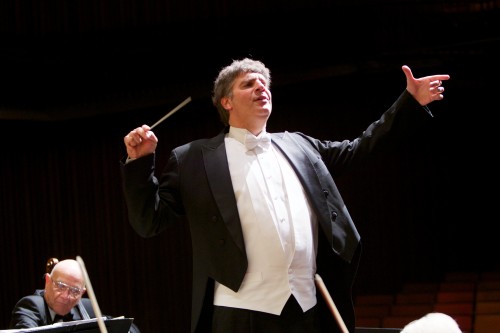 Peter Jaffe has served as music director and conductor for the Stockton Symphony since 1995 and for the Auburn Symphony since 2012; he has also recently been appointed music director for the Folsom Symphony. Known for fostering sustained artistic growth, Mr. Jaffe is recipient of top awards from the Association of California Symphony Orchestras and the Stockton Arts Commission, he has been honored by the University of the Pacific and San Joaquin Delta College for innovations in educational programming and by the Brubeck Institute for distinguished service.
Mr. Jaffe has spearheaded the commissions of several world premieres— Avner Dorman's Uzu and Muzu from Kakaruzu earned the Stockton Symphony national recognition for community engagement activities dealing with crucial social issues, and a portion of the Stockton Symphony CD of Chris Brubeck's Mark Twain's World was broadcast nationally on NPR's Performance Today.
Mr. Jaffe returns for appearances this season with Symphony Silicon Valley, and he has appeared as guest conductor with the Louisiana Philharmonic Orchestra, New Mexico Symphony Orchestra, Flagstaff Symphony Orchestra, Long Beach Symphony Orchestras, the Sacramento and Virginia Symphonies, and several other orchestras and music festivals. He spent three seasons conducting at the Oberlin Conservatory and two as a visiting professor at Stanford University, highlighted by an Eastern European tour with the Stanford Symphony. He has served as music director for the Stockton Opera since 2001, most recently conducting Mozart's Marriage of Figaro.
Mr. Jaffe teaches every summer at the Conductor's Institute of South Carolina, and he conducted and taught at the Aspen Music Festival for fourteen years—many of his Aspen performances have been broadcast nationally. Under his direction, Aspen's Young Artist Orchestra series helped to advance the careers of numerous rising stars. He was also honored to conduct the U.S. premiere of Augusta Read Thomas's Ligeia with the Aspen Opera Theater.
Several of Mr. Jaffe's own arrangements have been commissioned by and performed with orchestras in Aspen, Chicago, Long Beach, and Stockton, including his Symphonic Birthday and his transcription of Haydn's Arianna a Naxos for Jan DeGaetani, which was also performed by the Chamber Music Society of Lincoln Center. A CD of his lullaby arrangements was released on the Chandos label, featuring mezzo-soprano Nadia Pelle with Yuli Turovsky directing I Musici de Montréal.
Mr. Jaffe appeared on NBC's First Camera in a show devoted to Tanglewood, where he was coached by Leonard Bernstein, Seiji Ozawa, Gunther Schuller, and Gustav Meier, He also studied conducting with Andor Toth, Paul Vermel, Charles Bruck, and Herbert Blomstedt. Peter Jaffe's instrumental background includes extensive performing on the violin, viola, and keyboard. He served for a season as acting concertmaster of the Atlantic Symphony Orchestra in Halifax, Nova Scotia, and for several years as staff pianist and vocal accompanist at the Aspen Music Festival. He often conducts from the harpsichord when performing Baroque or early Classic repertoire.