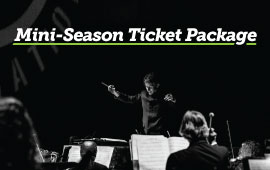 Did you attend our wonderful season opening concert and love it? Or did your friends rave about the concert, inspiring you to check out our other concerts this season? Well, we have the perfect offer for you! You can now purchase a ticket package to our three remaining Masterworks concerts in November, February and May AND get a discounted price! It's just like having a season ticket, for three concerts instead of four.
For Chico concerts, call Chris at the University Box Office, 530-898-4325.
For Redding performances, call the Cascade Box Office, 530-243-8877 and ask for Bethany.