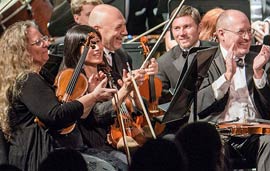 The North State Symphony thanks and applauds our sponsors in the business community. Without their support, the Symphony would not be successful. Please support them as they support us. Find out more about how you or your business can become a sponsor or advertise in our programs.
We also have true friends in the Chico and the Redding League.
The Symphony benefits greatly, and gratefully, from the work of these two voluntary, auxiliary organizations. Members work behind the scenes with fund raising, hospitality and scholarships. The Guild and the League meet monthly, but their efforts bear fruit constantly. They produce splendid special events, host receptions and provide refreshments and guest housing for musicians.
Ways you can help:
Thank you!
North State Symphony is an affiliate of the California State University Foundation, a 501(c)3 non-profit organization.