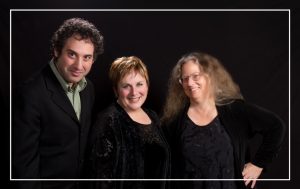 WINTER CHAMBER MUSIC CONCERTS WITH NORTH STATE SYMPHONY
On January 27th and 28th, North State Symphony presents its smallest and most intimate performances of the season with a Winter Chamber Concert featuring a range of ensembles and compositions.
A traditional piano trio - Beethoven's Op. 1 #1 - features guest artists Terrie Baune, violin, Carol Jacobsen, cello, and John Chernoff, piano.  Maestro Scott Seaton then joins Ms. Baune and Mr. Chernoff in a saxophone/violin/piano trio performance of Cantilene et Danse by Algerian-born composer Marc Eychenne.  Stravinsky's neo-classical Dumbarton Oaks follows, a piece written for chamber orchestra and heavily inspired by Bach's Brandenburg Concertos.  Finally, Scott Seaton plays in and conducts a septet in Villa Lobos' exotic and lively Choros No. 7.
Performances are Saturday, January 27th at 7:30pm at Paul and Yasuko Zingg Recital Hall, New Arts & Humanities Building, CSU Chico (tickets at the University Box Office or at chicostatetickets.com); and Sunday, January 28th at 2:00pm at Old City Hall in Redding, CA (tickets at the Cascade Theatre Box Office or cascadetheatre.org).
Generous community support is provided by Season Sponsor Dignity Health.  The Winter Chamber Music Concert in Redding is sponsored by Bob and Louise Wilkinson and Jim Malin.
For more information on other upcoming concerts and events, visit www.northstatesymphony.org.