Start Spreading the News!
Thanks to our media partners for all the amazing coverage extended to our organization via print, television, radio, and on-line throughout our 20-year (and counting) history in the North State!
Check back here regularly for our current and archived press releases, media coverage, and media resources.
For any press, publicity or media questions, please contact us.
---
Current Press Releases
NSS 21-22 HOLIDAY CONCERT Press Release
NSS 21-22 MASTERWORKS 2 Press Release
NSS 2021-22 SEASON Press Release
---
Media Coverage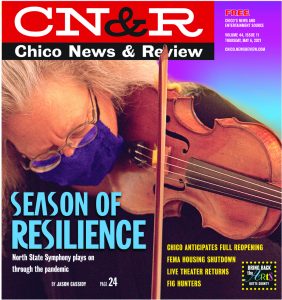 May 2021:  Season of Resilience - Chico News & Review
February 2020:  Program hosts Steve Gibson & Clark Schopflin interview Scott Seaton - KQMS Radio
October 2020:  NSS records its first-ever all virtual concert - KRCR-TV
October 2019:  Sound of resilience - Chico News & Review (Robert Speer)
December 2018:  NSS Healing Hearts Through Music - North State Parent Magazine (Jenna Christophersen)
September 2018:  Discover the Symphonic Experience - Oroville MR (Verda Mackay)
November 2017:  Music Man - Enjoy Magazine (Laura Christman)
November 2015:  Maestro of Mixing it Up - Chico News & Review (Robert Speer)
September 2015:  Meet the (new) Maestro - Chico News & Review (Robert Speer)
February 2015:  Scott Seaton Loves the North State - A News Cafe (Doni Chamberlain)
December 2014:  NSS Expands its Audience to "Little One's" - North State Parent Magazine (Sonia Giordani-Johnston)
---
Archived Press Releases
2020-21 Season
2020-2021 Season Announcement Press Release
2019-20 Season
NSS 2019-20 SEASON Press Release
NSS 19-20 Masterworks 1 Press Release
NSS 19-20 Masterworks 2 Press Release
NSS 19-20 Masterworks 3 Press Release
NSS 2019-20 Chamber Concert Press Release
NSS 19-20 Holiday Concert Press Release
2018-19 Season
NSS 18-19 Masterworks 1 Press Release
NSS 18-19 Masterworks 2 Press Release
NSS 18-19 Masterworks 3 Press Release
NSS 18-19 Masterworks 4 Press Release
NSS 18-19 Chamber Concert Press Release
NSS 18-19 New Year's Eve Concert Press Release
NSS 18-19 March POPS Concert Press Release
---
Media Resources